SEASONAL CLEANSES

Jo's cleanses aim to deepen our connection to our body by releasing negative life patterns and cultivating new healthy practices and rituals. They typically include food, juices, tea, Qi Gong sessions, meditation, wellness workshops, sauna, poolside hangouts and a goody bag.
To find out when the next cleanse is, check out our "What's On" page or sign up below the page to receive our newsletters.

Monthly I Friday evening & Saturday day
A 24hr cleanse from Sunset to Sunset to stop and honour ourselves and all the needs we have. This is a chance to connect with people that are interested in the relationship between the health of our body, what we eat and how we think.
Expect sound baths, meditations and movement.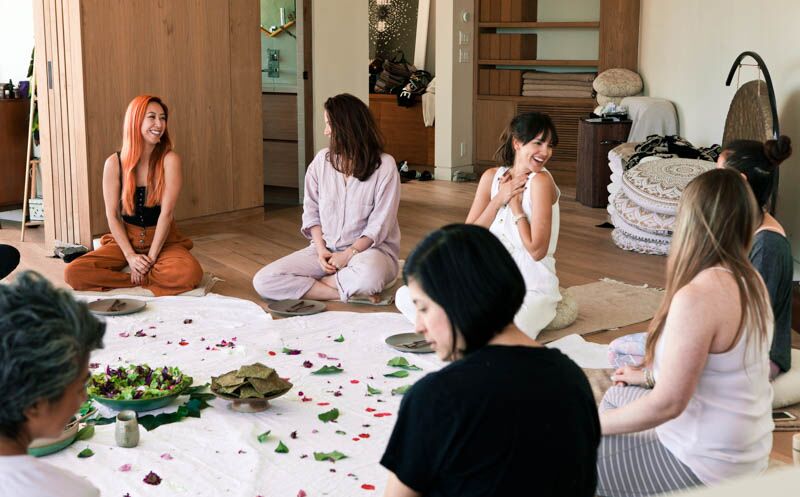 Every 6 months I 3 evenings & 4 days
This cleanse aims to deepen a woman's connection to her body by releasing negative life patterns and cultivating new healthy practises and rituals. Sister Circles are incredibly powerful; us women have gathered together throughout history. The red tent or the moon lodge was part of our culture many moons ago.
Expect carefully thought-through seasonal menus; a mix of raw and vegan dishes using high nutrient superfoods and high vibe foods.
Every season I 3 evenings & 4 days
Each season brings about a new energy inside us. As we move around the sun we turn through a circle here on earth and in our body. This seasonal adjustment is designed to help us flow with the rhythm of nature to shed the old and enter into the new.
The Seasonal Cleanse aims to empty out old energy and progress into a new way of being. We tune into the season ahead, helping us to evolve with nature and set our sights on present tasks/ goals for the coming months.
Private bespoke cleanses available, email Jo to find out more.